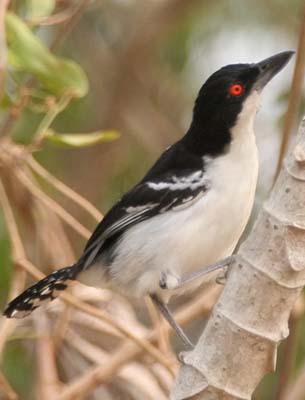 Great Ant Shrike
The Western Alliance for Nature just launched its recent conservation project with a special event on "Conservation Strategies" at the San Diego Zoological Society's Center for Conservation Research on Endangered Species.
Dr. Robert Ridgely made a rare appearance to Southern California to speak on behalf of the Western Alliance for Nature's program to acquire and protect endangered habitats of global ecological significance. Dr. Ridgely, Vice President for Endangered Bird Conservation for the American Bird Conservancy, is a leading ornithologist in the study of endemic and endangered species of birds in the Americas. Dr. Ridgely is author of numerous books on Central and South American birds and founder of the Ecuador based Jocotoco Foundation, named after a species he discovered recently. Working with the Western Alliance for Nature, the two organizations have recently purchased and set aside over 3,000 acres of habitat in Ecuador for the protection and preservation of neo-tropical birds. He thus spoke at length on the ecological value of the additional acres of critical habit that is the current acquisition fund raising goal of the Western Alliance for Nature.
The complementary component to habit preservation is the science of conservation to snatch species from the brink of extinction. Al Lieberman, Director of San Diego Zoo's Hawaii Endangered Birds Conservation Program gave an over view of conservation research on endangered species. The poster child of these projects is the well known captive breeding of the California Condor. Ultimately, it comes down to creating and preserving the habitats, the loss of which drove these species toward extinction in the first place. Acquiring these endangered habitats to protect them in perpetuity is the mission of the Western Alliance for Nature.
Preserving endangered wildlife habitats to protect biodiversity needs to be a global endeavor. To the Western Alliance for Nature, birds are the augurs of critical habitats to save because they are indicators of the health of an ecosystem. Their migrations also demonstrate the linkage of Nature's eco-network. Many of the birds that we enjoy in California also depend on winter habitats in South America. Extreme long distant migrators like the Arctic Tern connect habitats from the Arctic to the Antarctic. Saving bird habitats from pole to pole also preserves other wildlife and the biodiversity of each linking ecosystem. Preserving biodiversity means conserving diverse ecosystems.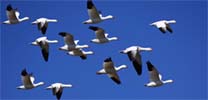 This is why the mission of the Western Alliance for Nature is now winging across both American Continents.
Even if you were not among the capacity crowd of conservation minded attendance, you can still participate in the conservation project itself.

Conservation Sponsors:
This program is endorsed and sponsored by the following environmental NGO's

...and by the following private sponsors:
Ozzie Silna
Pat and Barbara Kruer
Tracy Strahl-----South Bay Saltworks

| | | |
| --- | --- | --- |
| The Chevron Corp. | | |
You too can be a Conservation Sponsor. Click Here

The Western Alliance for Nature

Send checks to:
Western Alliance for Nature,
PO Box 1041, Malibu CA 90265

For more information call: (323) 345-1555 or EMAIL US