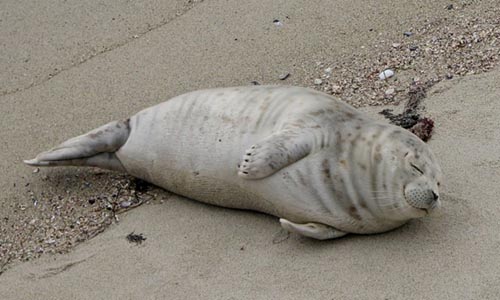 Hi there, am I not a cute Harbor Seal?
Click on my image to wake me up and I will take you on a live tour of my friends and relatives. When you see me you can go to the lower left hand corner to control what you are seeing and zoom in on me if you wish.
Watch us swim, frolic and sun ourselves on the beach.
Visit me again at night.
Watch the birth of my new brothers and sisters.
Watch our mothers nurse and care for seal children at "Casa Beach".
Click on "Seal Facts" and learn all about us.
Come and visit us in person and enjoy the spectacular shores of La Jolla. Click on "Casa Beach" for a map.

This live enjoyment of a wonder of nature is being brought to you by the Western Alliance for Nature as our mission to preserve our natural heritage for our children and the children of all species.
If you missed seeing a seal birth, we have saved one for you:
Click Here to view the amazing scene.