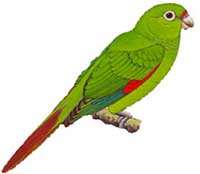 Larry Wan, founder of the Western Alliance for Nature came across a critical habitat in Ecuador that required immediate preservation while on a conservation trip to Ecuador. Immediately upon returning home, he persevered and secured the nesting site for the endangered El Oro Parakeet in record speed.
The El Oro Parakeet, a species discovered only twenty four years ago by renowned ornithologist and author of the Birds of Ecuador, Dr. Robert Ridgely, has only around 125 individuals remaining. Larry explored the area with Dr. Ridgely, which is located in a tropical cloud forest in southwestern Ecuador which contains the nesting trees for the parakeet as well as Howler monkeys, also highly endangered in Ecuador. The area harbors other spectacular birds such as the very rare Long-wattled Umbrellabird and a host of colorful hummingbirds and tanagers. Larry, a wildlife photographer, managed to photograph a male Umbrellabird in his full unique plumage and according to Dr. Ridgely, it might be the only photo of a male Umbrellabird. But, due to the heavy mist of the cloud forest and the scarcity of theses birds, though he spotted the El Oro Parakeet, Larry was unable to photograph one after two separate days of hauling his heavy camera gear over steep, hot, humid, slippery and muddy terrain. "I intend to go back again," Larry avowed.
| | | |
| --- | --- | --- |
| CLICK FOR MORE! | | Larry observed that this forest is being destroyed by cattle grazing and deforestation. Trees where the parakeets and other birds habitually feed and nest were being cut down. Nests were even deliberately destroyed or robbed. The property owner had refused to sell his property. But he is a local politician, and as this is an election year in Ecuador, he needed cash to finance his campaign. He finally made an offer to sell the land to raise campaign money, but it needed to be purchased immediately--before the election. After that time, he could not be counted on to sell at a reasonable price, if at all. This meant that there was only a small window of opportunity to buy the remaining habitat necessary to save this species from extinction. |
The Western Alliance for Nature immediately launched an urgent campaign to save this vanishing species and habitat. Larry challenged conservation-minded donors on the basis that they would match dollar-for-dollar any contribution toward the purchase of the El Oro habitat. Friends and supporters immediately responded to the appeal with individual donations. The contributions added up and with matching funds from Larry, the necessary habitat acquisition funds were secured in less than sixty days.
This nesting site will be annexed to the Buenaventura reserve created by Dr. Ridgely in 1999. Together, the 3,000 acres plus reserve will contain a cloud forest habitat that is not protected anywhere else and will now be a secure refuge for the El Oro Parakeet. From the human perspective, most local people of the area are supportive of the reserve, recognizing that it will help to secure a more consistent and higher quality water supply downstream. They also recognize that the reserve can bring ecotourism that represents a sustaining economic benefit for preserving natural resources.


Sword Billed Humming Bird
Photo by Larry Wan
Click for more Equador photos
Larry noted that, "What is remarkable is that this was all accomplished by grass roots individual contributions, with no dependence on government funding. It is so inspiring to see the power and conservation passion of individuals who are able to care for another species. The billions of taxpayer dollars spent on space exploration have only taught us that a living planet like ours is hard to find. The life forms that share this planet may be our only companions in a vast and lonely universe."

Long-Wattled Umbrella Bird
Photo by Larry Wan
Click for more Equador photos

"Every contributor may take pride in having directly participated in the preservation of a critical habitat of global ecological significance," Wan said. In fact, as soon as trails are perfected on the reserve, the Western Alliance for Nature intends to organize a tour for all contributors interested in visiting and seeing for themselves the species and habitat they helped to save.
You Have An Opportunity To Help By Making Your Personal Contribution Toward Saving Other Endangered Species By Setting Aside Critical Habitat. Why Not Act Today?
Please mail your contributions made payable to:
Western Alliance for Nature
If you have questions or would like to speak with us, call (323) 345-1555 and leave a message.