Contact: Alexia Swanepoel - (714) 840-1575
We know many photographers do not have a week or a complete weekend to devote to photography, yet yearn to learn new techniques to capture their creative awareness of wildlife conservation. Amigos de Bolsa Chica and Bolsa Chica Foundation invite all photographers to a one-day photo workshop at the Bolsa Chica Wetlands in Huntington Beach, CA on Saturday, November 15, 2003.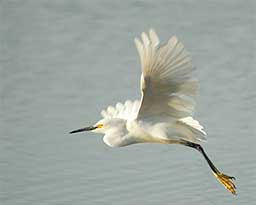 Larry Wan, a naturalist and long time environmental activist who's photography is dedicated to raising public awareness of the magnificence, power, beauty, and wonder of Nature to inspire environmental conservation, will be conducting the workshop. The workshop begins at 7:00am in the parking lot of the Bolsa Chica Ecological Reserve (1.5 miles south of the Warner Ave/Pacific Coast Highway intersection) and ends at 5:00pm at the Huntington Beach Central Library.
The workshop fee of $200 includes in-the-field instructions as well as tips on how your photography can be "certified organic" by capturing the unaltered artistry of Nature you desire without "artificial additives" of digital manipulation. After a morning of photographing at the wetlands with Larry, submit your film at a local photo shop for developing before enjoying your sack lunch. During lunch Larry will review and provide feedback on how you did in the morning before returning to the Reserve in the afternoon to do it even better. After picking up your developed photos from the photo shop, continue your day at the Huntington Beach Central Library as the group shares their photos through a slideshow. Larry will offer expert critiquing of the slides including artistry, exposure and composition.
Please note that your workshop fee is tax-deductible and net proceeds go to the Bolsa Chica Foundation to help educate the public about the Bolsa Chica wetlands by offering tours to children and adult groups throughout the year. This workshop is open to amateur as well as aspiring professional wildlife photographers.
To learn more about Larry Wan, please visit his websites www.wan-images.com and www.wanconservancy.org. To learn more about this workshop, please contact the Bolsa Chica Foundation by either phoning the Amigos de Bolsa Chica office at (714) 840-1575, by visiting the Amigos de Bolsa Chica website www.amigosdebolsachica.org or by emailing the office coordinator at info@amigosdebolsachica.org.